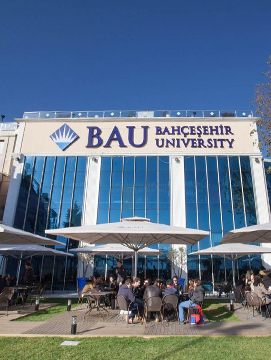 Bachelor of Film & Television at Bahcesehire University (BAU): Tuition Fee: $8,200/year (Scholarship Available)
Introduction
Film and Television Department offers its students a comprehensive education program that incorporates theoretical and practical knowledge required in professional and academic career. Our department aims to provide students the theoretical background, culture, education and skills for creating and analyzing fiction and non-fiction audio-visual products for cinema, television, radio and new media.
The program aims to educate professionals to meet the needs of film and media industries. Our graduates work in different positions in the cinema and television sector, as directors (of films, commercials or TV shows), directors of photography, scriptwriters, editors, sound designers, television programmers, film and advertisement producers.
Labs and Physical Infrastructure
Bahcesehir University Photography and Video Department aims to educate professionals who have a strong foundation of art and technology and who will work in and contribute to the future of the communication sector in Turkey. Our students are trained by the acclaimed experts to be the successful visual professionals of the communication sector and work in positions related to topics such as aesthetic and digital communications.
Photography Studio
Our photography studio is a professional standard 50 m2 studio which is used for both digital and analog shooting. It contains a selection of 5 professional flash lights, a variety of backgrounds, and a still life table, along with other professional studio equipment. Studio classes are conducted in this studio, and it is open for student use 24 hours a day.
Small Photography Studio
This studio is a 20 m2 studio which is designed for students who are undertaking daily studio shot assignments and personal projects. It contains 4 professional flash lights, various backgrounds, and a still life table, along with other professional studio equipment. It is open for student use 24 hours a day.
Dark Room
The dark room can hold up to 8 students at one time and is used for the developing and printing of black and white film. The studio and equipment for developing and printing is available to students 24 hours a day.
TV Studio
This 60 m2 television studio meets professional broadcasting standards, and students attend classes and work on projects here.
Mac Labs
The Bahcesehir University Communication Faculty possesses 2 Mac Labs. One of these labs contains 40 Apple computers, and it is used for photography and design courses and for student practice. The other, smaller, Mac Lab includes 25 high tech computers which are used mainly for video editing classes and student practice.
Multimedia and Web Lab
This lab accommodates up to 50 students. It is open for student use 24 hours a day, and contains up-to-date hardware and software which is designed to address the needs of students and their projects.
Design Lab
Bahcesehir University possesses a modern design and drawing lab used for 2-dimensional design courses.
CATI Lab
CATI is the abbreviation for computer-assisted telephone
interviewing, and it is a new data collection technique that unites telephones, computers and research. This lab, which uses the most high-tech software in the field, is a first for Bahcesehir University in Turkey.
Focus Group Lab
This lab is used for focus group meetings in which 7-12 people with the same demographic properties discuss a research topic for about two hours with a moderator and an observer who takes notes about the interview. The aim is to obtain in-depth and multi-dimensional qualitative data about the perceptions, opinions, beliefs and attitudes of a target sample towards that particular topic.
In addition to these labs, the university possesses editing rooms, a news center, and a radio studio within the faculty.
Original price
$0.00
-
Original price
$0.00
Application fee: $0.00
Current price
Application fee: $0.00