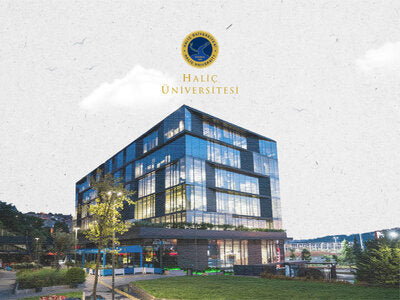 Master of Business Administration - MBA (Non-Thesis) at Halic University: Tuition: $5,000 Entire Program (After Scholarship)
Master of Business Administration program aims to educate students  to work in leading business worldwide  by offering  them higher level of expertise. This MBA program is based on the anticipation that our participants have studied a business, non-business subjects previously and they tend to build not only managerial but also academic career. The expertise targets of the program cover the areas of finance, accounting, marketing, production/operations management and organizational behavior.
One of the most important goals of our program is to provide the participants with the analytical, detailed training they need in the highly competitive business world and equip them with the most up-to-date strategic, administrative and sectoral developments they may encounter in real life.
This MBA Program, which is within the institution of Haliç University offers executive candidates with a problem-solving and practical expertise training.
Master of Business Administration Program is suitable for;
Those who have completed their undergraduate education in the fields of Business Administration, Economics and Administrative Sciences,
Those who have graduated from different undergraduate fields other than the field of Economics and Administrative Sciences and are looking for a profession in both public and private sectors, and university graduates who have a profession and want to advance their careers in this fields,
Experienced private and public sector managers who want to increase or improve their knowledge and skills,
Employees who have experience in technical fields or jobs that require expertise, those who want to change their profession, those who apply for new jobs or who want to rise to managerial positions in a broad sense and
Those who want to pursue a career academically (Doctorate, etc.)
This program is enriched with online, database-supported computer labs and visual education tools in the light of information technologies and business science.
Requirements
Program Quota (Thesis) : 15 person
Program Quota (non-Thesis): 30 person
Students who have graduated from 4-year undergraduate programs is allowed to apply. All the international students' undergrad diplomas from the Universities abroad should be recognized by Higher Education Council of Tukey(YÖK). Foreign students must submit their YÖK equivalence documents in their applications. If they are not recognized by YOK, the students' applications will not be valid to any Turkish University.
An undergraduate degree from an accredited institution (*studies abroad should be recognized by Turkish Higher Education Council)
Minimum required GPA score is 2.00 out of 4 or 60 out of 100. 
Proficiency in English. Applicants are required to hold the following English Exam Score:
YDS-YÖKDİL: 65
An official academic transcript from every university attended
All the international students' undergrad diplomas from the Universities abroad should be recognized by Higher Education Council of Turkey. This process will be conducted on behalf of the student by HU Registrar's Office.
Turkish students whose undergrad degrees' are from Universities located outside of Turkey, are expected to supply equivalency document by applying YOK individually
It is required to have obtained a bachelor's degree and received at least 55 points for numeric field from Academic Personnel And Postgraduate Education Entrance Exam (ALES) Score Type for Turkish applicants.
Original price
$0.00
-
Original price
$0.00
Application fee: $0.00
Current price
Application fee: $0.00